All-in Signing
Swisscom AG, a major telecommunications provider in Switzerland, offers all the required ICT solutions from a single source. A comprehensive ICT product portfolio for start-ups, SMEs and enterprise customers offers the ideal solution for any need. Everything works at the touch of a button and is ready for the digital transition.
Swisscom and SpeciTec are in a partnership since 2020. As per agreement SpeciTec is empowered to resell and to integrate Swisscom All-in Signing Service. We have a certified team of experts able to integrate this service and develop tools around it.
Advisor
Video identification
Video identification is a method of online identification in which a video agent verifies and confirms a person's identity via video conferencing. A user can perform video identification from the comfort of his or her own home, for example, to become eligible for electronic signature within a few minutes. Video identification has been used in the banking environment for several years. This guide provides you with the important facts about the video identification process.
Smart Registration Service
Legally compliant identification and registration for electronic signatures
Swisscom Digital Identification & Signing (DIS)
The Swisscom DIS Platform can be easily integrated with the software systems of a customer (for example,
as part of a financial intermediary's online on-boarding for persons).
There are two options for this integration:
1. The Web-Onboarding option represents an end-to-end system integration. The end-to-end user will experience a process starting on the partner's website, continues on the Swisscom DIS platform, and often ends back on the partner's website. Such an integration comprises usage of the web services described below in order to conduct the overall process and for transferring documents for the purpose of signing.
2. The Easy-Onboarding option supports a very much simplified process which begins directly on a brandable landing webpage that is already provided by the Swisscom DIS platform. Since there is no web service interaction between partner and Swisscom to initiate the DIS-Process, no documents can be delivered to be signed digitally.
The following diagram shows the two processes resulting from the two integrations options side to side (in this example the integrating partner is a Bank).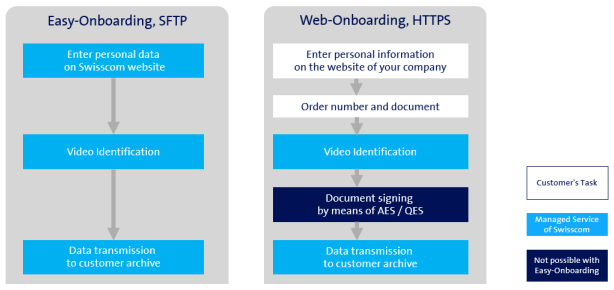 What both options have in common is that the DIS process results are delivered to the integrated partner
at the end of the process, although with the " Easy-Onboarding " option, as mentioned, no signed document will be generated.
Let's Try
Get started with us
We can build your future solution.

100% Swiss

Experts

Support 24/7 possible

Worldwide